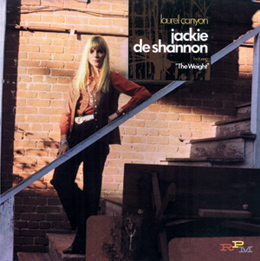 I WAS SO HONORED TO HAVE BEEN A PART OF THIS ALBUM. IT'S ALL MY PHOTOGRAPHY.
Jackie
was the first singer to really capture Laurel Canyon on record.
Joni Mitchell
and everyone else came later.
We got up in the middle of the night and were ready on Laurel Canyon in front of the Country Store to take these pictures before 6 a.m. Who knew at the time we would be making rock history? If you read the credits, the "unknown" then,
Dr. John
was on piano.
Barry White
sang background.
Russ Titleman
was on guitar.
Sonny
and
Cher
's managers, Charlie Greene and Brian Stone produced. We were all up for 24 hours straight. They recorded, I shot photos at the session.
Please read the reviews included on this page as well. Stupid Liberty Records had a bad promotion department and blew the release, but true rock journalists and historians have paid attention and put this album out front where it always belonged.
For a better view go to: www.jackiedeshannon.com






Looking Back To
Laurel Canyon



available at Amazon, iTunes, Playstore







Laurel Canyon

I love to greet the day
Love my hideaway in
Laurel Canyon
I don't keep track of time
Living on a dime in
Laurel Canyon


Standing here trying to get a ride
I got my baby by my side
Some say that we're the pride of
Laurel Canyon

Shades of Camelot
Giving all I've got to
Laurel Canyon
John Paul Jones and Liz
Try to keep it hid in
Laurel Canyon

Uphill, downhill take your pick
Light another candlestick
I don't think I could ever kick
Laurel Canyon

Looking out my door
I can see that store in
Laurel Canyon
Staying just above
With the one I love in
Laurel Canyon

Our good friend Felicity

Well she married old man Socrates

Standing under 'neath the trees of

Laurel Canyon (strange companion)

I've got a dog named Gwinn
Wandering somewhere in
Laurel Canyon
She goes out to play

Seems to know her way through

Laurel Canyon








| | | |
| --- | --- | --- |
| | | |
| | "Among elite insider music community "Laurel Canyon" is a well known underground musical masterpiece that should have had great commercial success, due to strange lack of radio support plus the usual poor promotion from Liberty Records, this tremendous magical musical treasure has mainly over the years been enjoyed by hardcore connoisseurs of the finest the world of music has to offer, exactly what the great "Laurel Canyon" is, being a solid musical masterpiece..." | |
| | Read the full review at Amazon.com | |
| | | |
| | | |
| | Laurel Canyon "celebrates a place and time that transcended the physical world to signify a virtual Garden of Eden for the flower-power generation. Featuring extensive contributions from Mac "Dr. John" Rebennack and guitarist Russ Titleman, Laurel Canyon boasts a swampy, lived-in charm that perfectly compliments DeShannon's sexiiy gritty vocals... | |
| | Read the full review at AllMusicGuide.com | |
| | | |




| | |
| --- | --- |
| | |





Jackie's Instrumental Group:

Mac "Dr. John" Rebbenack -

Piano

Harold R. Battiste, Jr. -

Electric Piano

Russ Titleman -

Acoustic Guitar

Craig Tarwater -

Electric Guitar

Ray Trainer -

Bass Guitar

Paul Humphrey & Abe Mills -

Drums

Jackie's Vocal Group:

Barry White Brendetta Davis Don MacAlister

Photography:

Sue Cameron

Producers:

Brian Stone, Charles Greene