Please Make Your Paid Reservations by Oct. 5
and Send an Email that You Plan to Attend, today...
Dear Friends,

I'm looking forward to sharing the weekend of October 19-20 with you at my MASTER CLASS Acting for the Singer. Its focus is to enhance your song interpretation. You'll be required to bring two songs that tell a story (one ballad/one up tempo) with you.



If you've not yet reserved your space but are planning to attend, please postmark your paid reservations by

October 5

. I've extended the deadline to give you a little more time to do so.

I would like to ask that you submit the email form (below)

today

to let me know you're planning to attend.

(This, however, does not enroll you, rather helps me to plan ahead.)

Space is Limited! Advance Reservations Required.

More details are available at

By the way, I'm currently teaching students enrolled at UCLA classes in Acting for the Singer and Singing for the Actor. It's my third year doing so. The Fall term culminates with their performances in Lainie's Cabaret at UCLA - Freud Playhouse Nov. 20-23. I hope you will be able to attend!

Best,
Lainie Kazan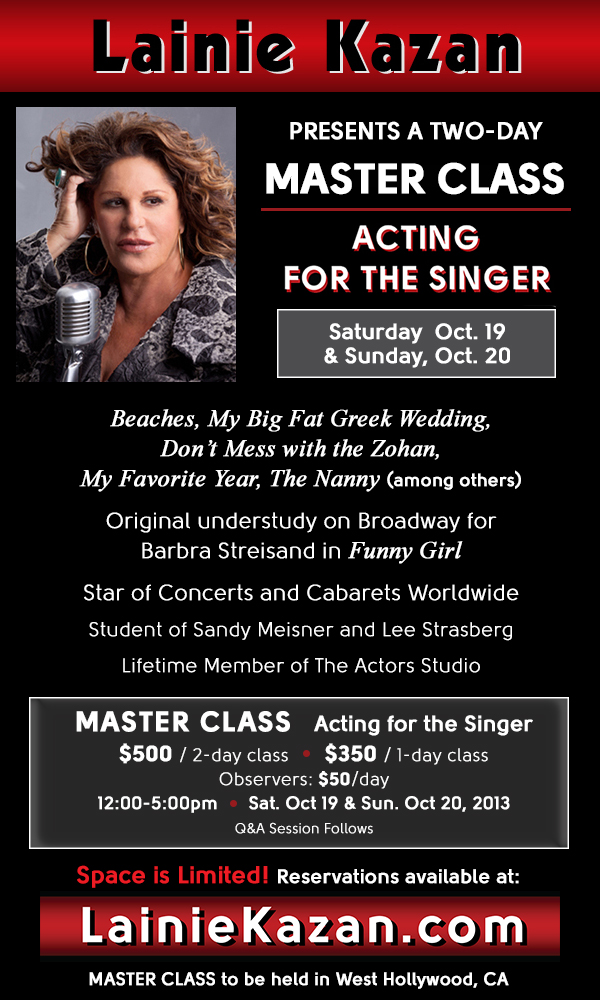 Space is Limited! Advance Reservations Required.
More details are available at